With more than 5, 500 clinical trials in patients and more than 5 million Cool Sculpting treatments performed worldwide, you can now eliminate that stubborn fat and get the perfect contour!
We are proud to offer this service at both our downtown Toronto and North York locations and are happy to service customers from the Mississauga area.
Cool Science + Strong Experience = High Patient Satisfaction
5,500
Studied in more than 5,500 clinic trial patients
5,000,000
More than 5,000,000 CoolSculpting procedures have been performed worldwide
High patient satisfaction
FROM POPSICLES TO CRYOLIPOLYSIS® TO COOLSCULPTING
Years ago, scientists at Harvard University observed that some children who ate popsicles got dimples in their cheeks. The scientists—Dieter Manstein, MD and R. Rox Anderson, MD—realized that the popsicles were freezing and eliminating small pockets of fat cells.
WHAT IS
COOLSCULPTING™
TREATMENT?
CoolSculpting Treatment is a unique, non-invasive, fat-reduction procedure that utilizes advanced CoolSculpting technology to deliver safe, precise and effective fat reduction without surgery or downtime with long-term results!
As you gain or lose weight with diet and exercise, fat cells do not decrease, they only change in size; therefore, fat cells are never completely eliminated. Cool Sculpting utilizes controlled cooling technology to effectively target fat cells beneath the skin's layers. The fat cells are crystalized through fat freezing naturally breaking down and are gradually eliminated by the body, revealing a renewed sculpted figure!
Many of us have stubborn fat despite diet and exercise.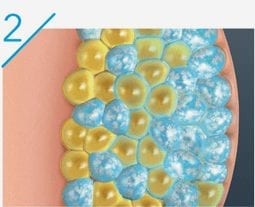 CoolSculpting technology uses controlled cooling to target and kill only these fat cells.
In the weeks to follow, your body naturally processes the fat and eliminates these dead cells.
CoolSculpting procedure results are long term, as treated fat cells are gone for good.
Reference: 1. Data on file. ZELTIQ Aesthetics, Inc.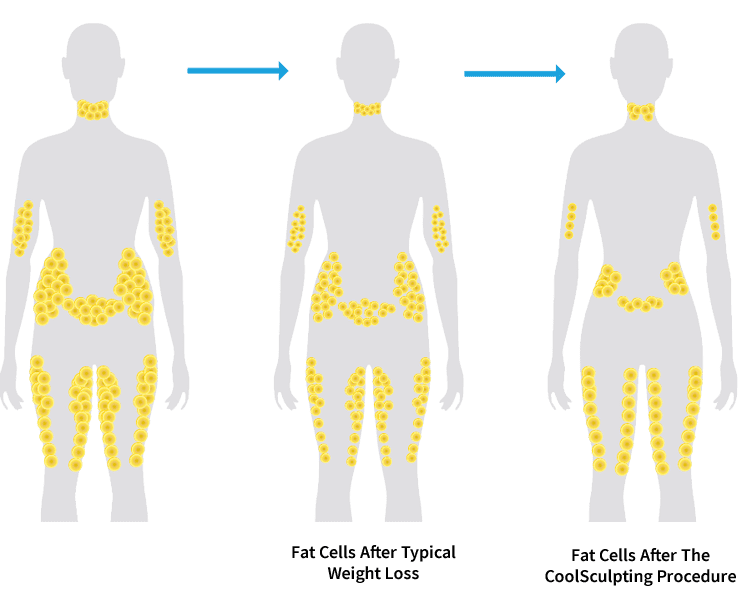 FAT REDUCTION VS. WEIGHT LOSS
The amount of Fat cells in our body becomes a fixed number in adolescence. As we lose or gain weight, the numbers of fat cells do not increase or decrease. Instead, there is a change in the size of fat cells. Therefore, losing weight through diet and exercise will not completely eliminate fat cells from the body.
COOLSCULPTING TREATMENT™ HIGHLIGHTS
New Revolutionary Cool Sculpting applicators for greater comfort, more tissue treated and less time (35 minutes).
Device safety with built in safety measures
No surgery
No Anesthesia
No downtime
COOLSCULPTING TREATMENT AREAS
CoolSculpting can target stubborn fat in the areas that bother you the most
YOUR TREATMENT PLAN: CUSTOMIZED TO YOUR BODY
1. EVERYONE'S BODY IS DIFFERENT
Your CoolSculpting Toronto specialist, will discuss the most suitable treatment plan tailored to meet your individualized needs. It may only take one visit at our clinic to achieve your treatment goals. With various applicators customized for each individual and body type, your specialist can design a treatment plan that will meet your needs and desired treatment results.
2. ELIMINATE FAT IN STUBBORN AREAS
For some individuals, it may take up to 1-3 treatments to achieve an optimal contoured figure. For example, you may want to treat the abdomen- and also get rid of excess tissue on your flanks (hips) to achieve the anticipated look. Our dual cool sculpting technology can treat different body areas at the same time!
3. YOUR BODY SCULPTING TRANSFORMATION
Your Cool Sculpting specialist will perform a thorough assessment and provide a clinical recommendation to ensure areas treated give you that ideal image with the required amount of treatment sessions. And what would be the final result you might ask? Say hello to a new and improved you!
COOLSCULPTING VS OTHER FAT REDUCTION PROCEDURES
Coolsculpting has many unique features that set it apart and make it the best choice for patients looking to eliminate that stubborn fat and get the perfect contour. Learn more about the differences between Coolsculpting and other fat-reduction procedures
Frequently Asked Questions