Laser vein treatment is done on the outside of your skin. It treats a broad range of vessels from tiny spider veins to deep blue reticular veins quickly, safely, and effectively.
Combining the most advanced technology, a unique design, and a longer wavelength, the Cutera CoolGlide treats both tiny superficial face veins and deeper blue leg veins on men and women of all skin tones.
Benefits of Laser Vein Removal
Results are often noticeable after only one session
Treatments are safe, non-invasive and virtually painless
You can immediately resume your regular activities
There are very few, if any, side effects
Larger areas can be treated with less discomfort (compared to other methods)
Works on any area of the body where you wish to have blood vessels removed
Small vessels which are difficult or impossible to treat respond well to laser skin treatments
How Laser Vein Removal Works
The Cutera Excel laser system emits pulses of light energy which passes through the skin to the blood vessels, where the pigment in the blood absorbs the energy.
Because it is a pigment-specific damage, it causes selective damage to the lining of the targeted blood vessel without damaging the surrounding cells.
The body reabsorbs the blood vessels, which have been destroyed, and the flow of blood is directed back down into the deeper vessels, where it should be.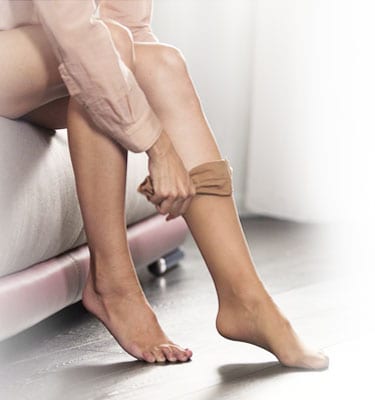 Why must you wear compression stockings post treatment?
Compression stockings (or socks) are a specially designed elastic hosiery that support healthy blood circulation.
They reduce the diameter of distended veins and increase venous blood flow velocity and valve effectiveness.
Compression therapy helps decrease venous pressure, prevents venous stasis and impairments of venous walls, and relieves heavy and aching legs.
Choosing the right size and compression level for your stocking (or socks) is crucial to feel as comfortable as possible and to take advantage of all the benefits they provide.
We measure and fit each client individually to ensure optimal treatment results.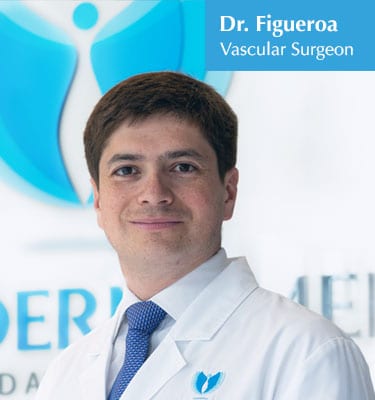 It's important to keep in mind self-care treatments will not change the look of varicose veins. If you do not respond to self-care or if your condition is more severe your next step would be to consult a vascular surgeon.
We are one of the only cosmetic clinics in the GTA with a vascular surgeon on their team.
Frequently Asked

Questions
Will my day-to-day activities be disrupted?
Are there any side effects?
What can I expect after my treatment?
How many treatments will I need?
Are Laser Vein Procedures painful?
How do Laser Vein Reduction Treatments work?
Can all Skin Types be treated for Laser Vein Reduction?
What types of Veins can be treated?
For the first 24 hours, we recommend the restriction of vigorous exercise. We advise the application of broad-spectrum sunscreen upon the treated area over the next few weeks and or limiting sun exposure until the course of treatment is complete.