Greatly improve the look and feel of your skin with no downtime
Laser Genesis skin therapy is a non-invasive skin rejuvenation treatment to promote vibrant and healthy skin. Laser Genesis procedure utilizes Nd;YAG laser technology to treat fine wrinkles, redness and scars.
We are proud to offer this service at both our downtown Toronto and North York locations and are happy to service customers from the Mississauga area.
BENEFITS OF LASER GENESIS
Three to six treatments are recommended, which is sufficient to restore the skin's youthful glow. To maximize your results, Laser Genesis therapy can be combined with other treatments like Microdermabrasion, Photo Rejuvenation, Laser skin resurfacing and Micro Laser Peel.
Safely and gently treat and diffuse redness
Diminishes acne scarring
Collagen production is continuously stimulated
Reduces the appearance of fine lines
Naturally promotes a healthy look
Scientifically proven to produce new collagen, for the treatment of fine wrinkles, redness and scars. Collagen is the most abundant protein to provide strength and structure in the human body. Women experience a significant reduction in collagen production after menopause.
HOW DOES LASER GENESIS WORK?
By gently heating the upper dermis well below your skin's surface, Laser Genesis improves the appearance of wrinkles through collagen stimulation. Additional heat is generated in dilated capillaries to reduce redness.
IDENTIFY YOUR SKIN'S CONDITION – BOTH SURFACE & SUBSURFACE
The VISIA™ system's multi-spectral imaging analysis provides a clear, multi-dimensional portrait of individual aspects of your complexion that contribute to enhancing your overall appearance.
VISIA™ provides the most comprehensive means available for measuring and identifying all aspects of your skin's health. This revolutionary technology enables the targeting of problematic features, such as uneven textures, wrinkles, sun damage, and other imperfections.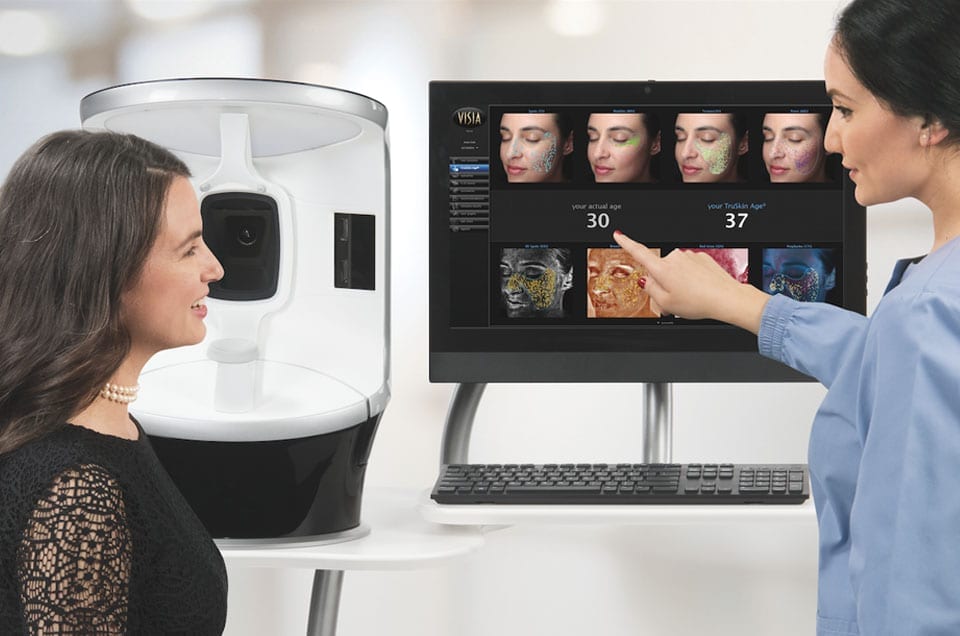 Frequently Asked Questions
What is Laser Genesis Treatment?
How does Laser Genesis work?
What areas can be treated with Laser Genesis?
What does the Laser Genesis treatment feel like?
How long will the Laser Genesis treatment take?
How many Laser Genesis treatments are required?
How will my skin look after a Laser Genesis treatment?
How soon after a Laser Genesis treatment can I wear makeup?
When will I see the results of a Laser Genesis treatment?
What is the 'social' downtime after a Laser Genesis treatment?
Can laser genesis be part of combination therapy treatment?
What are the intervals in between Laser Genesis treatments?
How should I care for my skin after a Laser Genesis treatment?
The laser genesis treatment utilizes advanced Nd: YAG technology to safely and effectively treat visible signs of aging and sun damage such as: fine-lines, wrinkles, scars, large pores, diffuse redness and uneven skin tone/texture through the stimulation of collagen production.