Reveal radiant skin after a single chemical peel treatment.
Over the years, chemical peels have become a popular non-invasive skin rejuvenation treatment.
As we get older, our body's natural rejuvenation process slows down. This includes the natural turnover of dead skin cells, which are replaced by new cells. As a result, the complexion appears dull as wrinkles, sun damage and "age spots" become more visible.
In order to achieve a radiant and youthful glow, you can incorporate a professionally applied light skin peel into your regular skin care regiment.
We are proud to offer this service at both our downtown Toronto and North York locations and are happy to service customers from the Mississauga area.
WHAT ARE THE BENEFITS OF CHEMICAL PEELS?
Chemical peels are ideal for eliminating surface-level skin blemishes and imperfections. A versatile treatment, chemical peel is generally performed on the face, neck, chest, and hands to treat:
Certain types of scarring
Fine lines and wrinkles
Overall dull complexions
Rough skin texture
Skin pigmentation issues (such as age spots and uneven skin tone)
Chemical peels are not all created equal. Different formulations are designed to treat various concerns.
During your chemical peel consultation, we will discuss your underlying conditions and select the right chemical peel formulation for your skin.
During your treatment, a gentle peeling agent is applied directly to your skin. As a result, the top layer of dead skin slowly peels off.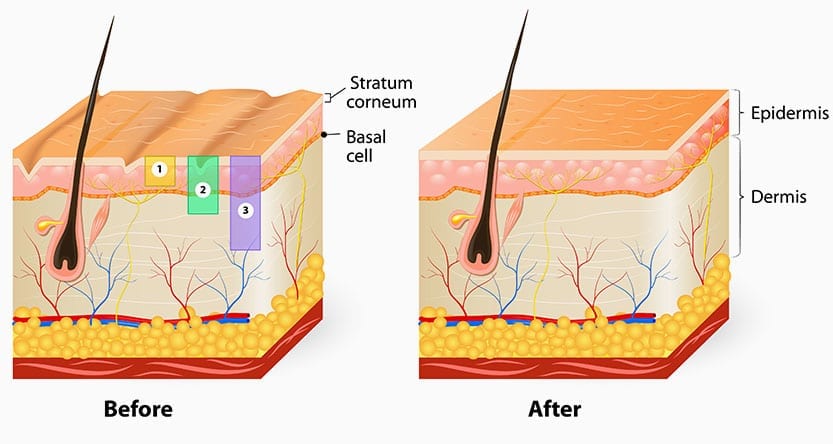 RESULTS OF CHEMICAL PEELS
Professional level chemical peels help your body generate younger, smoother and fresher skin.
Note that your skin may look slightly red or sunburned immediately after the treatment. However, you will also notice an improvement of overall skin tone and texture, and will experience long lasting results.
IDENTIFY YOUR SKIN'S CONDITION- BOTH SURFACE & SUBSURFACE
The VISIA™ system's multi-spectral imaging analysis provides a clear, multi-dimensional portrait of individual aspects of your complexion that contribute to enhancing your overall appearance.
VISIA™ provides the most comprehensive means available for measuring and identifying all aspects of your skin's health. This revolutionary technology enables the targeting of problematic features, such as uneven textures, wrinkles, sun damage, and other imperfections.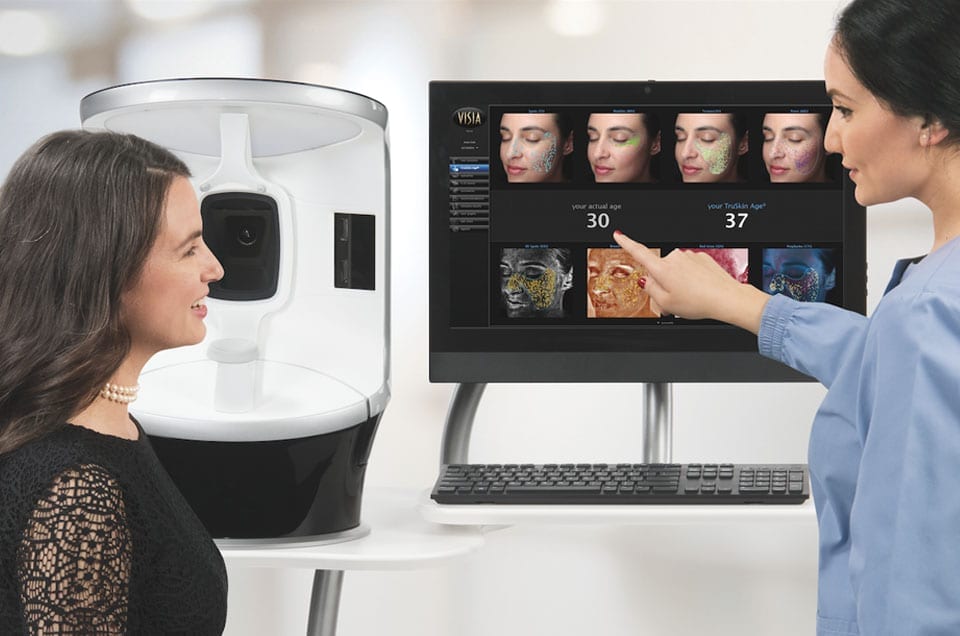 Frequently Asked Questions
If this treatment is best for me what's the next step?
What will my skin be like afterwards?
How many Chemical Peels do I need?
There are different formulas?
How is this treatment applied?
Will it really make a difference with my skin?
What do Chemical Peels do?
Call in today so our customer care representative can book in your FREE consultation! You will be glad you did. We look forward to working with you in the near future.