The skins' smooth, youthful appearance can be diminished with the development of surface imperfections and pigmentation irregularities. Diet, skin conditions, repetitive muscle movements, sun damage and inherited traits are all factors that contribute to the gradual formation of fine lines,wrinkles, scarring and pigmentation in the face.
Chemical peels are one of the most popular skin treatments to reveal
radiant and smooth skin. By topically applying a peeling solution we can improve the skin's appearance by chemically resurfacing the superficial layers.
Chemical peels can be combined with other skin rejuvenation treatments such as laser Genesis , laser Acne & photo rejuvenation to create a comprehensive treatment plan or to optimize the results of the treatment.
WHO IS A GOOD CANDIDATE FOR A CHEMICAL PEEL?
Chemical peels are ideal for eliminating skin imperfections on the face, neck, back & chest
to treat:
Irregular pigmentation
Dull complexions
Scars
Acne
Post inflammatory scars
Melasma
Sun-damaged skin
Aging skin
Clogged pores
Rough-textured skin / uneven- textured skin
Fine lines and wrinkles
There are three types of chemical peels available: superficial (light), medium, and deep peels. Each peel is customized according to your skin type and condition. During your chemical peel consultation, we will discuss your underlying conditions and select the right peel formulation for your skin.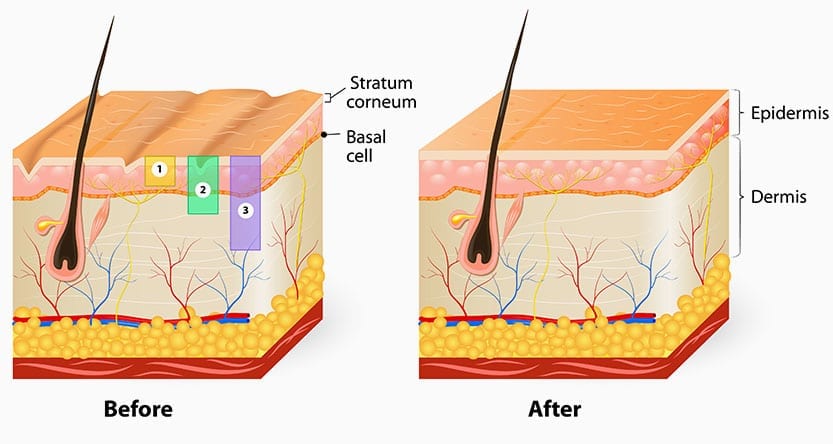 RESULTS OF THE CHEMICAL PEEL TREATMENT
Chemical Peels encourage your skin's youthful glow by helping the body's natural rejuvenation process. This means that it helps speed up the turnover rate of dead skin cells, leaving fresh new ones on the skin's surface.
The results will be subtle at first, but will increase with repeated treatments.
IDENTIFY YOUR SKIN'S CONDITION- BOTH SURFACE & SUBSURFACE
The VISIA™ system's multi-spectral imaging analysis provides a clear, multi-dimensional portrait of individual aspects of your complexion that contribute to enhancing your overall appearance.
VISIA™ provides the most comprehensive means available for measuring and identifying all aspects of your skin's health. This revolutionary technology enables the targeting of problematic features, such as uneven textures, wrinkles, sun damage, and other imperfections.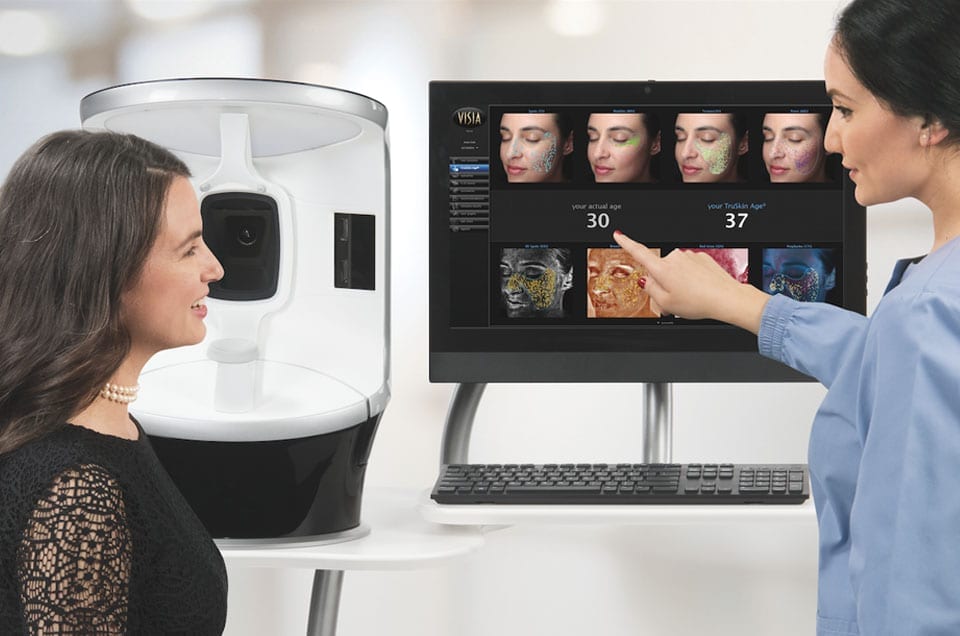 Frequently Asked Questions
What are the different types of chemical peels?
What can be treated with chemical peel?
How long will a chemical peel treatment take?
What can you expect during a chemical peel procedure?
How many chemical peels will I need?
What happens after the treatment?
When will I see results? How soon can I wear make-up after a chemical peel treatment?
What is "social" downtime after chemical peel?
What are the intervals between treatments?
Can chemical peel be part of combination therapy treatment?
A chemical peel is a skin resurfacing treatment used to improve skin tone, imperfections and  texture by applying a peeling solution to the skin to exfoliate the superficial layers.