Go Hair-free with the Most Advanced Lasers for Women and Men of All Skin Types and Tones.
Laser hair removal is the most popular way to permanently remove excess hair. Unwanted hair on the body and face can be irritating and unpleasant. Tweezing, waxing, and shaving are only temporary solutions, while options like electrolysis can take forever and can be very painful. We are able to safely treat men and woman of all skin tones and hair types, eliminating unwanted hair quickly, painlessly, and permanently.
We are proud to offer this service at both our downtown Toronto and North York locations and are happy to service customers from the Mississauga area.
In order to understand how laser hair removal works, you must understand how hair grows. It grows from deep within the hair follicle in a three-phase cycle.
The length of the growth cycle depends on the type of hair, meaning color, thickness and placement on the body. For example, the active growth phase of the hair on your head can last years, while the active growth phase of the hair on your body may only last a couple months. The rate of growth differs between individuals.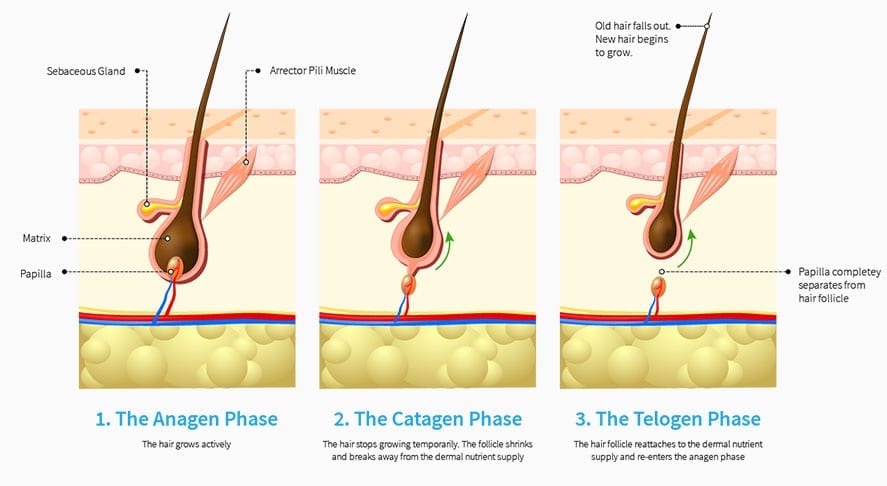 THE DIFFERENCE AT NEWDERMAMED
We employ a variety of lasers for laser hair removal treatments, which enable us to treat every skin and hair type safely and effectively. All our lasers can be used on any area of the body, and usually require no anasthesia. Even sensitive areas such as the upper lip, areolas and bikini line can be treated easily and with minimal discomfort. At NewDermaMed, we use the CoolGlide laser, the Prowave LX and the Fotona Nd-Yag.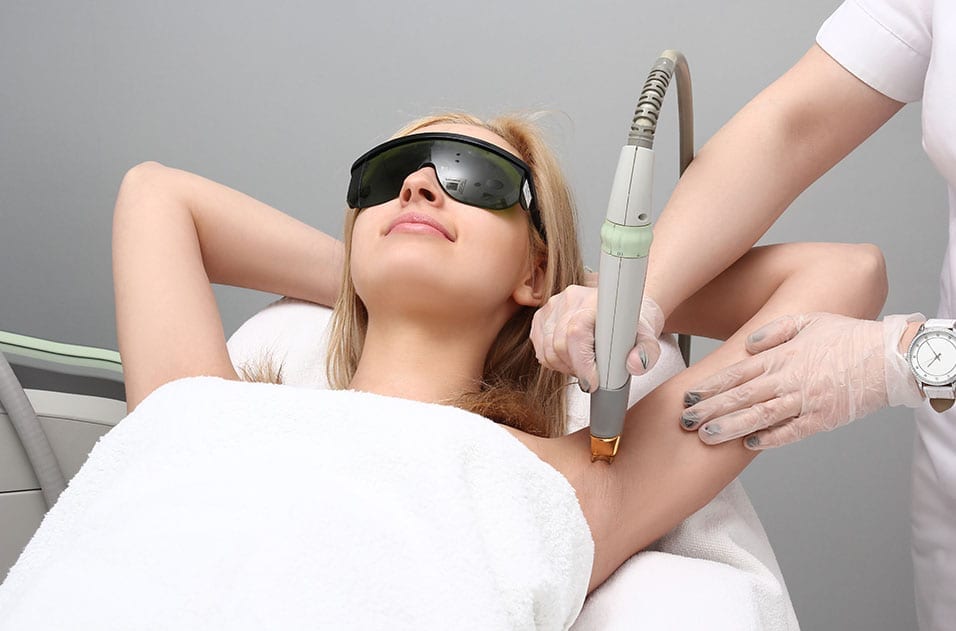 THE COOLGLIDE LASER
The Coolglide laser was awarded the best laser for laser hair removal of all skin types including dark and/or tanned skin. The Coolglide handpiece cools and soothes as it glides along your skin. Long Nd-Yag Laser pulses treat many hairs at once so it is possible to treat large areas of the body. Its unique design, longer wavelength, and innovative cooling allow extremely effective, safe and permanent results.
THE PROWAVE XL LASER
The Prowave XL laser treats finer, lighter hair. Its new breakthrough design enables higher peak powers and short pulse widths, targeting smaller structures with less thermal diffusion.
THE FOTONA ND-YAG
The Fotona ND-YAG targets fine, light to dark hair. Its laser light penetrates deeper into the skin to selectively target even the deepest hair follicles.
The laser delivers pulses of light which bypass the pigment of skin and target only the melanin in the hair follicle causing selective damage to the hair root while protecting delicate pores and structures of the skin. The laser primarily disables hairs in the active growth phase, otherwise known as the anagen phase. Hair follicles in a given area are not always in the same phase at the same time; therefore, follow-up treatments may be required to disable all of the hair follicles.
NewDermaMed will work with you to set up a customized regimen of treatments. The number of treatments for laser hair removal Toronto patients require, varies based on factors such as the thickness of the hair, the area being treated and your hair's growth cycle.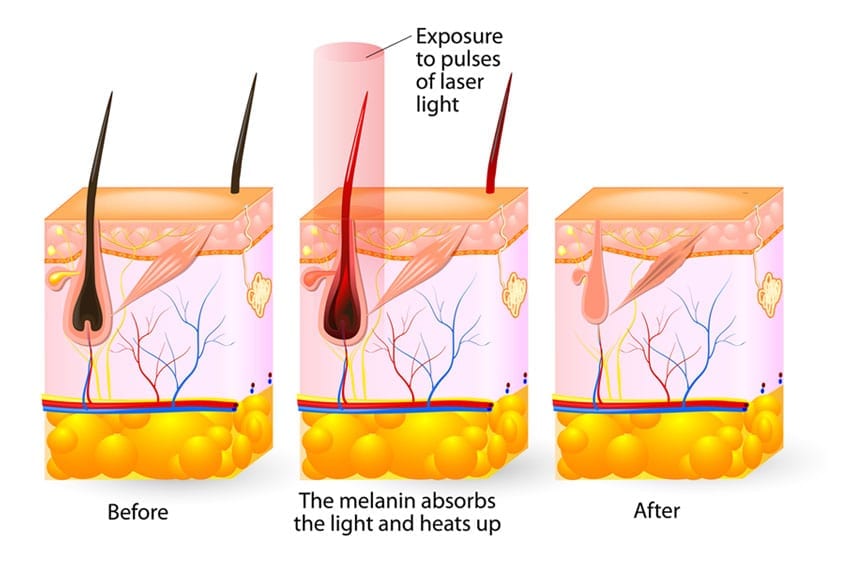 BENEFITS OF LASER HAIR REMOVAL
Silky Smooth Skin
Safe and Effective Treatment
Comfortable treatment
Cost Effective
Frequently Asked Questions
What do I do if I am interested in this Laser Hair Removal treatment?
Are there any packages or deals?
Is there anything I need to do before my appointment?
When Can I have my next appointment?
Will my hair be completely gone after one treatment?
What will my skin be like after?
Is this treatment good for all hair and skin types?
What Laser equipment is used?
The next step would be to book a FREE consultation with one of our Medical Professionals. During your consultation they will discuss with you any questions you may have. They will also educate you on what hair removal treatment would be best for you, and why you have come to the right place!