Dr. Roach
Surgeon
Dr. Muriel Roach graduated with a BSc from the University of Toronto. She holds a prestigious fellowship in the Royal College of Surgeons of Canada with an expertise in plastic surgery. With over 20 years experience, she offers clients uncompromising and excellent service. Dr. Roach believes cosmetic surgery has little to do with vanity. It's a way to nurture one's self-esteem.
Gretchen Chichioco
Nurse / Medical Aesthetician
Gretchen is NewDermaMed's Registered Practical Nurse and a graduate in Medical Aesthetics at Centennial College. Her widespread experience and knowledge working with various medical grade cosmetic lasers enable her to professionally assess the suitability of treatments for all skin types. Gretchen receives year-round schooling and training to learn about the latest cosmetics laser procedures, combination therapies, and product developments available to consumers. NewDermaMed's superior products, customer relationships, and latest technologies in the markets is the reason Gretchen is so enthused to work at NewDermaMed.
Gretchen has been administrating outstanding medical skin care treatments for over five years and continues to deliver optimal results for all NewDermaMed patients.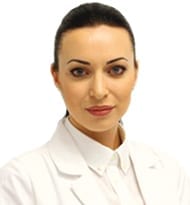 Olga Bulakh
Medical Aesthetician
Olga is NewDermaMeds certified Medical Aesthetician and a graduate from Canadian Beauty College. Since obtaining her diploma, Olga has been providing laser treatments for the past six years. Olga is well known for her gentle, calming nature that has made her successful in building client relationships. Her passion for aesthetics, love for beauty and her positive attitude will make your visit to NewDermaMed a memorable one.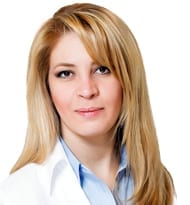 Alin Gharibian
Master Medical Aesthetician / Aesthetic consultant
With over ten years of experience, Alin has earned her reputation as a highly respected Certificated Medical Aesthetician. Her welcoming personality, balanced business approach, and strong dedication to her clients continue to support her growth in this field.
Alin strongly believes that continuous education and on going training is fundamental in offering her clients with the most advanced technologies and innovative treatments. Her annual attendance at world seminars, including the Anti-Aging World Seminars and Management Programs, have made her one of the most renowned professionals in the industry.